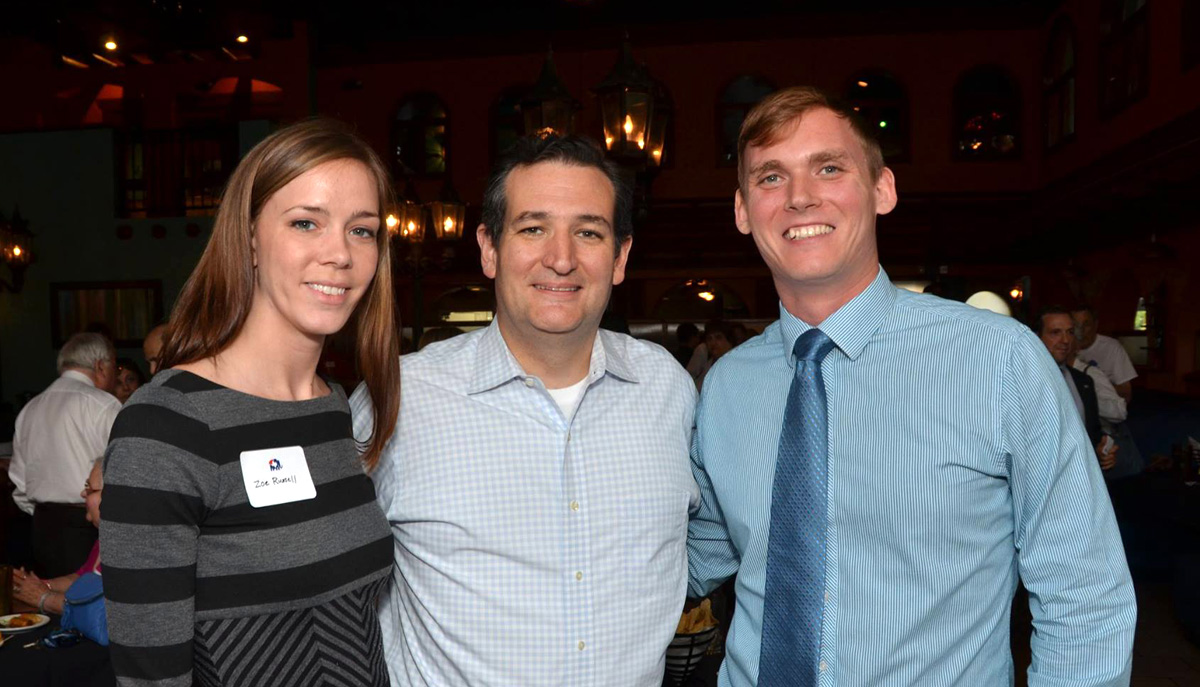 At an exclusive event hosted by the Republican Party of Texas Grassroots Club, Sen. Ted Cruz spoke to a small group of supporters. The event, held at Café Adobe in Houston, TX on Aug 1st 2014 was a gathering of Grassroots Club donors. Members of RAMP (Republicans Against Marijuana Prohibition) were present. After speaking to the crowd, Sen. Cruz answered several questions from those in attendance. Life Member of RAMP and Executive Director of Houston NORML (National Organization for the Reform of Marijuana Laws), Jason Miller, asked Sen. Cruz the following question:
"An amendment was filed to a spending bill last month by Sen. John Walsh of Montana that would prohibit the Feds from denying gun ownership rights to medical marijuana patients in states where it is legal. This stems from a 2011 memo from the ATF that basically declares that medical marijuana patients cannot possess firearms or ammunition. Do you support this amendment that protects gun ownership rights for medical marijuana patients at the federal level?"
Senator Cruz did not hesitate in giving his response. He gave a simple, clear, one-word answer to the question, he said: "Yes."
This is significant because the issue is sure to come up in future Senate bills and amendments. The issues of states rights, gun ownership and medical privacy are important to conservatives. We're pleased that Sen. Cruz is supportive of efforts to protect gun ownership rights of patients who use marijuana for medicinal purposes.
Many of these patients suffer from a debilitating condition and are disabled to some degree. Imagine someone in a wheelchair not being able to defend his or herself against a home intruder, not being able to go hunting with friends and family, or not being able to purchase guns or ammunition from a local gun dealer. Imagine a cancer patient that owns firearms, uses medical marijuana in compliance with State law and is unaware of the Federal law. This individual could face up to 10 years in Federal Prison. The Federal law is unjust and the letter issued by the ATF is an outright attack on the 2nd Amendment rights of over a million Americans.
People who act in accordance with the laws of their State and choose the medical treatment that works best for them should be free to exercise their 2nd Amendment rights.
Unfortunately, the federal government disagrees.
In an open letter to all federal firearms license (FFL) holders published by the ATF (Bureau of Alcohol, Tobacco, Firearms and Explosives) in 2011, the agency made clear that "Marijuana is listed in the Controlled Substances Act as a Schedule 1 controlled substance, and there are no exceptions in federal law for marijuana purportedly used for medicinal purposes, even if such use is sanctioned by state law."
The ATF has declared that medical marijuana patients acting in compliance with state law have no 2nd Amendment rights whatsoever. The letter goes on to say "Any person who uses or is addicted to marijuana, regardless of whether his or her State has passed legislation authorizing marijuana for medicinal purposes, is an unlawful user of or addicted to a controlled substance, and is prohibited by Federal law from possessing firearms or ammunition."
In addition, the ATF has threatened all FFL holders with federal prosecution if they sell or transfer firearms or ammunition to any medical marijuana cardholder. As the letter clearly states "If you are aware that the potential transferee is in possession of a card authorizing the possession and use of marijuana under State law, then you have "reasonable cause to believe" that the person is an unlawful user of a controlled substance. As such, you may not transfer firearms or ammunition to the person."
This is a very important issue for residents of Montana, a state known for the outdoors and a long-held pride in the rights guaranteed by the 2nd Amendment. Montana is also a medical marijuana state. In response to the notification, Montana Attorney General Steve Bullock wrote a letter of protest to the Department of Justice. U.S. Senator Jon Tester (D-MT) also wrote a letter, stating "It is unacceptable that law-abiding citizens would be stripped of their Second Amendment rights simply because they hold a state-issued card authorizing the possession and use of marijuana for medicinal purposes."
On June 18, 2014, an amendment (SA 3285) was filed by Sen. John Walsh (D-MT) as an attachment to H.R. 4660, which is a funding bill for the Departments of Commerce and Justice, Science, and Related Agencies. The amendment would ban the ATF and DOJ from using federal funds to "enforce the provisions of Federal law 18 U.S.C. § 922 sub-section (d)(3) or (g)(3) against a registered medical marijuana patient based on either the status of the patient as a registered medical marijuana patient or the lawful use of medical marijuana under the laws of the State in which the patient resides."
This particular amendment may not come up for a vote in the Senate; however, we are sure to see continued bipartisan efforts to protect lawful medical marijuana patients from Federal prosecution. In addition to Walsh's amendment, Sen. Rand Paul (R-KY) and Sen. Cory Booker (D-NJ) filed an amendment to the DEA appropriations bill as a bipartisan measure to prevent the Drug Enforcement Administration (DEA) from using federal funds to go after medical marijuana operations that are legal under state laws. A similar amendment passed the U.S. House in a historic 219 to 189 vote just a few weeks earlier.
We applaud Sen. Ted Cruz for his support of efforts to protect our 2nd Amendment rights from being infringed upon by the Federal Government. We are hopeful that Sen. Cruz will also be supportive of the Booker/Paul amendment and other efforts to protect medical marijuana patients from Federal infringement.