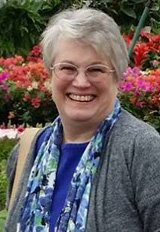 Jane Bock
Secretary
Jane Bock has been involved with RAMP for a several years and is a friend of Ann Lee's, the founding Member. Jane has lobbied for decriminalization of marijuana to the Texas State Legislature and has been able to gain valuable insight into marijuana policy and activism.
Jane graduated from Loyola University in New Orleans, LA in 1993 with a Bachelor of Arts Degree in Business Management. She is retired as an insurance adjuster and an independent insurance Agent. Jane has over 43 years business experience with various companies and agencies. Jane is involved with several different ministries at St. Thomas More Catholic Church.
Jane is a member and sits on the board of the Memorial West Republican Women (President-Elect & Chaplin) and Downtown Houston Pachyderm Club. She is a member of Village Republican Women, Daughters of Liberty, Magic Circle, Ronald Regan Republican Women and various other Republican Clubs. Jane is a member of the Houston Association of Insurance Professionals and the Houston Claims Association.
Jane has worked tirelessly to campaign and volunteer for Sarah Davis, David Dewhurst, Chris Daniels, Jared Woodfill and various other Republicans candidates throughout the Houston area over the years. Jane was born in Georgia and has been married to Peter Bock for 42 years. Jane lived in the Panama Canal Zone as a teenager. She moved to Houston in 1995 from New Orleans/Metairie, Louisiana.