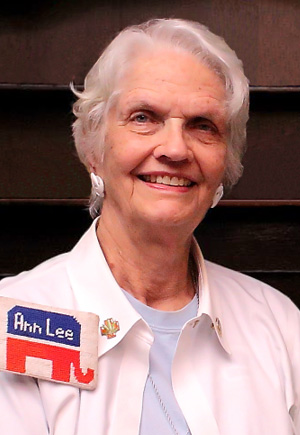 Ann Lee
Founder / Executive Director
Ann Lee and her husband Bob Lee founded RAMP based on the belief, rooted in years of research and personal experience, that the prohibition of marijuana is diametrically opposed to the Republican principles of limited government, individual responsibility, and personal freedom.
Lee has been a leader and activist in the Republican Party since 1970. That year, she became precinct chair in the Harris County Republican Party serving from 1970 to 1992. Her first campaign activity came in 1964 in support of Barry Goldwater. In 1983, Lee co-founded the group Women for Reagan. She has participated as a state delegate to almost every Texas GOP Convention for the past 25 years.
Lee is a Board Member of the Houston Downtown Pachyderm Club, Past President of the Tejas Republican Women Federation, and has served as a delegate to the National Federation of Republican Women 15 times.
Ann Lee is a Texas Ex with a Bachelor of Arts in Political Science, graduating class of 1950. She is married to Bob Lee with whom she has five sons.
For more information about how Ann Lee got involved with the marijuana reform movement, read more about our story.