I am heartbroken to write that Vincent Lopez, one of the most courageous, committed, passionate, and loving cannabis activists in Texas (and the world) has passed away yesterday at the age of 42. Vincent suffered from Becker's muscular dystrophy since childhood, and was confined to a wheelchair, but was the first volunteer in line to help anyone who needed to find their voice and encouragement.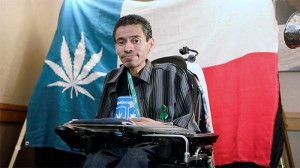 Vincent served Texas NORML and also formed the Patient Alliance for Cannabis Therapeutics (PACT). He is renowned for his testimony, sharing personal stories about his life to try and explain how cannabis comforted him in his severe pain.
Vincent will be remembered by almost everyone who has any relation to marijuana law reform in Texas. He was incredibly impactful, and I'm terribly sad he did not live long enough to use his medicine legally in this state. His work is not in vain, and will help many, many patients in Texas. Some day we will convince politicians that sick people just want to use the best medicine for them.
Watch this memorial to Vincent and also view his powerful testimony in front of the Texas House Public Health Committee (Vincent's speech begins around the 6:12:00 mark).
We especially want to offer our sincerest prayers to Vincent's mother, who cared for Vincent throughout his life, and as a team made so much difference to the people who heard his story. Rest in Peace, in health, with our Lord Jesus Christ, my dear Vincent.