FOR IMMEDIATE RELEASE
Austin, TX – May 6, 2015 – Just yesterday marijuana advocates were celebrating a bill passing out of the Criminal Jurisprudence committee that would create a civil penalty for possession of less than one ounce of marijuana. Today, a bill to wipe the whole slate clean on marijuana prohibition advanced out of the same committee—and with more votes!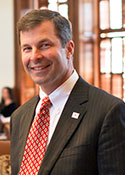 Representative David Simpson (R-Longview) filed House Bill 2165 after hearing pleas from his constituents, several with extremely compelling medical needs who testified before the committee in a hearing on April 8. Rep. Simpson has held to his message that, "Civil government should value everything God made and leave people alone unless they meddle with their neighbor." Simpson has held a number of town halls in his district since filing the bill where he's received surprisingly positive feedback.
The 85-year-old co-founder of Republicans Against Marijuana Prohibition, Ann Lee, testified in favor of the bill, stating, "When I was growing up, it was illegal for blacks and whites to go to school together. That was bad law. We do have such things as bad law, and this marijuana prohibition is simply bad law." (6:38:40)
The prohibition of marijuana has long been propped up by misinformation or a scuttling of the conversation. With both of these bills advancing past this important threshold, every Texas legislator can expect marijuana to be a permanent campaign and town hall topic.
Voting for the bill were Chairman Herrero (D-Corpus Christi), Chairman Hunter (R-Corpus Christi), Vice Chair Moody (D-El Paso), Representative Canales (D-Edinburg), and Representative Simpson (R-Longview) and against the bill were Representative Leach (R-Plano) and Representative Shaheen (R-Plano).
John Baucum, RAMP political director said, "The progress of this bill reflects that our legislature is starting to catch up with average Texans on the issue of marijuana. I'm optimistic that moving forward, we have a chance to really debate this issue and end this bad law once and for all."
Republicans Against Marijuana Prohibition (RAMP) is a nonprofit organization working to educate and connect with Republican lawmakers, party leadership, and grassroots activists on marijuana issues. We support efforts to bring marijuana out of the black-market to be regulated for medical care and adult recreational use. RAMP was founded in 2012 by Bob and Ann Lee. Learn more at www.RAMPGOP.org.
Media Contact:
Houston
Ann Lee
713-774-3283
bobnannlee@aol.com
Austin
Zoe Russell
713-303-5601
zoe@rampgop.org
###