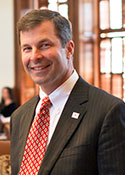 Austin, TX – March 2, 2015 – Texas State Representative David Simpson (R-7) introduced a bill Monday that would strike all language pertaining to marijuana from Texas Statutes, thus abolishing marijuana prohibition in the state.
Representative Simpson's HB 2165 harkens back to a time when government did not intervene in the control of marijuana. And you know what? It wasn't a very scary time. The prohibition of marijuana was notoriously built on misinformation and hyperbole rather than facts and results.
When these laws haven't worked for 80 years, is it really such a novel concept to simply remove them?
76% of Texans recently responded to a UT/Texas Tribune poll saying they favor reducing criminal penalties for marijuana or allowing medical access to marijuana. How many of them would support the government getting out of marijuana altogether?
It may be a surprise to some that a Republican from deep-red East Texas is reclaiming marijuana prohibition as a small government issue, but it shouldn't be.
"It disturbs me greatly that Republicans would distort the principles of small government, fiscal responsibility, and personal liberty in such a way that they could support the failed principle of marijuana prohibition any longer," states Ann Lee, co-founder and executive director of Republicans Against Marijuana Prohibition.
Republicans Against Marijuana Prohibition (RAMP) is a nonprofit organization working to educate and connect with Republican lawmakers, party leadership, and grassroots activists. We support efforts to bring marijuana out of the black-market and instead be regulated for medical care and adult recreational use. RAMP was founded in 2012 by Bob and Ann Lee. Learn more at www.RAMPGOP.org.
Media Contact:
Zoe Russell
713-303-5601
zoe@rampgop.org
###