March 13, 2015
Austin, TX – Two Texas lawmakers, Senator José Menéndez (D-San Antonio) and Representative Marisa Márquez (D-El Paso), each authored a bill to establish the legal possession, use, cultivation, and distribution of marijuana for medical purposes.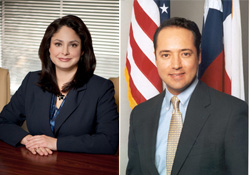 House Bill 3785 and the to-be-numbered Senate Bill would allow patients with cancer, post-traumatic stress disorder, HIV/AIDS, Crohn's disease, ulcerative colitis, Alzheimer's disease, seizure disorders, and multiple sclerosis to possess a limited amount of marijuana for medical relief upon the recommendation of their physician.
"Republicans Against Marijuana Prohibition (RAMP) welcomes the bills filed by Sen. Menéndez and Rep. Márquez and will be working to attract Republicans to the cause," says RAMP political director John Baucum. "Ideologically, respect of the doctor-patient relationship places very high on Republican priority lists. Our job is to overcome many years of misinformation that singles out this one plant as off-limits for medical application."
RAMP will participate in a press conference with coalition members, Sen. Menéndez, and Rep. Márquez on Tuesday, March 17, 2015 in the Texas Capitol. Further details to follow.
In a press release issued by Rep. Márquez's office, the legislator said, "By continuing to deny access to patients we limit the rights of families to seek the best possible treatment for conditions that do not respond to other drugs or therapies. We should create paths, and not obstacles, in allowing doctors to recommend medicine that has been shown to work."
A February UT/Texas Tribune poll showed that 76% of Texans agree. The large majority of respondents answered that Texas should reduce criminal penalties for marijuana possession or allow medical access to marijuana. With multiple medical marijuana bills filed, including the Texas Compassionate Use Act and Rep. Naishtat's (D-Austin) affirmative defense bill, Texas's 84th Legislature will see the most comprehensive hearing about medicinal cannabis in the state's history.
Republicans Against Marijuana Prohibition (RAMP) is a nonprofit organization working to educate and connect with Republican lawmakers, party leadership, and grassroots activists on marijuana issues. We support efforts to bring marijuana out of the black-market and instead be regulated for medical care and adult recreational use. RAMP was founded in 2012 by Bob and Ann Lee. Learn more at www.RAMPGOP.org.
Media Contact:
Zoe Russell
713-303-5601
zoe@rampgop.org
###