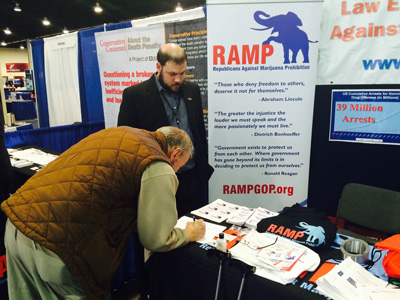 February 27, 2015 – National Harbor, MD – Support for marijuana legalization continues to grow among Americans and earn bi-partisan support across the political spectrum. Just this week, new legalization laws went into effect in the red state of Alaska and the nation's capital, Washington D.C., making it legal for adults 21 and older to enjoy cannabis now in 4 states + D.C., and several more states are debating the issue in 2015 or expected to vote on proposals by 2016. Recent Gallup polling shows support for marijuana legalization at an all time high, with a majority of Americans in favor (51% as of October 2014), and support for patient access to medical marijuana even higher. Republican lawmakers have sponsored, co-sponsored or voted for pro-marijuana legislation in several state legislatures already this year, including Michigan, Pennsylvania, Utah, Georgia, and Texas.
Two major pro-legalization organizations will discuss the issue with conservatives and law enforcement professionals at this week's conservative political action conference in National Harbor Maryland. Republicans Against Marijuana Prohibition was founded by Ann Lee, a life-long Republican and grandmother from Texas. Her son, Richard Lee, began using medical marijuana after a workplace accident in the early 1990's left him as a quadriplegic with chronic muscle spasms and nerve pain. Lee will be at CPAC and available for interviews while she works at her organization's expo table. Lee is dedicated to advocating for better policy positions on marijuana among Republicans and conservatives:
"It disturbs me greatly that Republicans would distort the principles of small government, fiscal responsibility, and personal liberty in such a way that they could support the failed principle of marijuana prohibition any longer," says Lee.
Law Enforcement Against Prohibition will be working alongside RAMP in advancing the marijuana discussion at the conference. Present will be at least two reputable police veterans, Howard Woodridge, an original founder of LEAP and Neill Franklin, the current director of the organization with more than 30 years of experience with the Maryland State and Baltimore police forces. Eric Sterling, the President of the Criminal Justice Policy Foundation will also be volunteering at the pro-legalization booth and speaking in favor of marijuana policy reform.
1) http://www.gallup.com/poll/179195/majority-continues-support-pot-legalization.aspx
Please contact either organization's representative listed below to arrange an interview.
Event Details:
RAMP and LEAP co-sponsor the 2015 Conservative Political Action Conference and will have spokespeople at the event at expo table number 740.
Friday February 27th – Saturday February 28th
Gaylord National Convention Center 201 Waterfront St, National Harbor, MD 20745
Media Contacts:
John Baucum, Political Director
Republicans Against Marijuana Prohibition (RAMP)
713-822-8405
John.Baucum@yahoo.com
Howard Wooldridge, Founder
Law Enforcement Against Prohibition (LEAP)
817-975-1110
howardwooldridge0@gmail.com
##