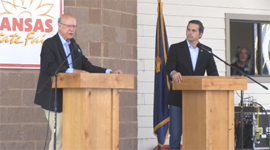 Republican Senator Pat Roberts took on his challenger, independent Greg Orman, in a rowdy debate at the Kansas State Fair on Saturday, September 6. The 78-year-old Senator is running to maintain his seat for a fourth term in a three-way race, with the Democratic candidate attempting to drop his name from the ballot.
In the debate, both Roberts and Orman were asked whether marijuana should be legalized.
Roberts answered, "That's not a federal issue. That's a state issue. If you wanna get a Rocky Mountain high, go west. That should be for the Kansas legislature and the governor to decide, not federally."
Orman responded, "As the senator has mentioned, we do have states that have started to work with different policies as it relates to legalization, and I think it would be prudent for us to take a step back and watch what happens in those states before we determine how we want to change federal policy."
Joking about Rocky Mountains aside, Robert's response reveals a welcome shift in the GOP. We challenge Senator Roberts upon winning to support measures that remove federal encroachment in the states' legal marijuana markets. The federal law must change for markets to properly function. There is no "watching what happens" when the federal government threatens to prosecute business people, bankers, patients, and doctors.
Robert's can join Rand Paul on Amendment 3630, which would protect legal medical marijuana patients and growers. He could also support Paul and Cory Booker's attempt to mirror a House amendment, passed in May, blocking DEA funding for raids in legal medical marijuana states. How about Roberts introduce his own legislation? He can copy the bill introduced by Representative Jared Polis of Colorado to remove marijuana from the Controlled Substances Act and end federal prohibition.
Senator Roberts, upon reelection, we'll be keeping an eye on your states rights stance. Talk is not enough.
Watch the question about marijuana starting at the 34:34 mark.