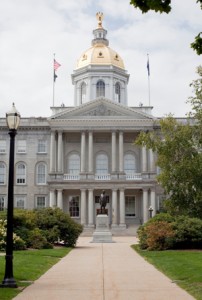 New Hampshire made history on Jan. 15 2014 by becoming the first state to ever pass a marijuana legalization bill through the legislature. The New Hampshire House passed the bill 170-162 after a lengthy debate. It now goes on to the Ways and Means Committee but must again pass the House and Senate before reaching Gov. Maggie Hassan's desk.
Two States, Colorado and Washington, have passed initiatives to legalize marijuana for recreational use by adults over 21 years of age. In both instances, this was achieved through ballot initiative. The situation in New Hampshire is a true milestone in politics because the bill was successfully passed through the state legislature. In this case, the New Hampshire House of Representatives, making it the first bill of this kind to be approved by a legislative chamber.
65 Republicans voted in favor of this bill (HB 492) which was sponsored by Rep. Steve Vaillancourt (R-Manchester). If approved, the bill would end New Hampshire's failed prohibition of marijuana and replace it with a sensible policy of legalization, regulation and taxation. It would allow New Hampshire residents over 21 years of age to purchase marijuana and grow up to 6 plants for personal use.
Under this bill, the state would impose a 15 percent sales tax on all marijuana sold and an additional tax of $30 per ounce for grow facilities and stores.
Although Gov. Maggie Hassan, a Democrat, signed New Hampshire's medical marijuana bill into law last year, she has vowed to veto any bill to legalize marijuana. According to her spokesperson Marc Goldberg, the governor "does not support further efforts to legalize marijuana."
Republican Rep. from Manchester and the bill's primary sponsor, Steve Vaillancourt, gave a passionate speech on the House floor. "To everything there is a season, and this is the season for legalization," Vaillancourt said. He mentioned several polls that point to public support for legalization and pointed out that New Hampshire will benefit from the tax revenue.