Annapolis, MD – With bi-partisan support in the Senate, a bill will be introduced in Maryland to legalize the possession, cultivation, and retail sale of marijuana to adults over 21 years of age.
The proposed bill is expected to be introduced early 2014 and will remove all criminal and civil penalties for the possession of up to one ounce of marijuana and the cultivation of up to 6 cannabis plants.  It will also create a tax and regulate model for retail marijuana stores, cultivation facilities, and marijuana product manufacturers.
Republican Senator Allan Kittleman is expected to co-sponsor the bill along with Democratic Senator Jamie Rakin.
Maryland's current Governor, Martin O'Malley, a Democrat, said that he is opposed to marijuana legalization in the state, despite growing support among lawmakers.
"I'm not much in favor of it," Gov. O'Malley said in a radio interview on the Marc Steiner show "We've seen what drug addiction has done to the people of our state, to the people of our city."
Apparently, Gov. O'Malley attributes drug addiction to marijuana, a common and misguided excuse among politicians. Gov. O'Malley is a strong supporter of prohibition and has escalated the war on marijuana. Elected Mayor of Baltimore in 1999, O'Malley ran on an anti-crime platform advocating "zero-tolerance" policing, a strategy that focuses on arresting people for minor, non-violent offenses.
From 2000-2007, Maryland's overall marijuana possession arrest rate rose 28 percent statewide to 4,916 arrests per year. Baltimore alone accounted for 75 percent of this increase. According to the FBI's 2011 annual Uniform Crime Report, Maryland ranked among the top five states in marijuana possession arrests every year from 2007-2011.
According to a recent report by the ACLU, Baltimore ranks in the top 5 cities for marijuana arrests at 1,136 per 100,000 residents for 2001-2010. According to the same report, Maryland ranks #11 in states arresting blacks at a higher percentage than whites with a 27.9% difference.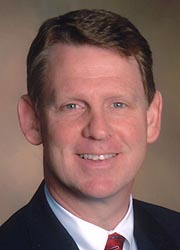 Photo of Allan Kittleman (R)
Republican State Senator for District 9, Allan Kittleman, has a much more sensible view on marijuana. "The current way we're dealing with marijuana and the use of it by our citizens isn't working." Kittleman said. "I've always had a feeling this is the proper way to move forward."
Allan Kittleman has been a member of the Maryland Senate since October 21, 2004. He was Senate Minority Leader from 2008-2011 and has served on numerous committees. He was awarded Outstanding Legislator of the Year by Maryland Business for Responsive Government 4 years in a row (2008-2011).
Another one of the bill's backers, Democratic gubernatorial primary candidate Heather Mizeur, estimates that Maryland would raise between $122.5 and $157.5 in annual tax revenue which she would funnel into a special early childhood education fund.
Maryland's Republican gubernatorial primary candidates, current Harford County executive David Craig and Del. Ron George both oppose legalization while Charles County business executive Charles Lollar, said he is undecided.
According to a PPP poll, 53% of Maryland voters support legalizing marijuana and treating it similar to alcohol while only 38% oppose.